The Legendary Manga Comes to Life
Did you guys hear? The awesome manga series turned local favorite here in the Philippines – "Yu Yu Hakusho" is getting a live-action adaptation on Netflix! Created by the amazing Yoshihiro Togashi, this manga was a big hit back in the day. Here in the Philippines, it's most commonly known as Ghostfighter. It really did became a local hit and was even printed on a local news paper!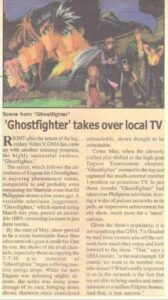 A New Take on a Beloved Story
This upcoming live-action adaptation has been in the works for five whole years, and us fans are surely hoping that this is gonna be amazing! According to recent reports, creators are using cutting-edge technology to bring the story to life in a whole new way. Whether you're a longtime fan like me or fairly new to the series, get ready to see those beloved characters like never before!
A Global Team Effort
As it currently stands Netflix seems to go all out with this adaptation. They've brought together a team of talented people from both Japan and the United States to make sure it's top-notch. Remember "ONE PIECE"? It is said that they used the same approach for that show, and it turned out great! Redeeming live action scene as some has claimed. The special effects studio, Scanline VFX, known for their work on big Hollywood movies, played a big part in making the characters and action scenes look super realistic.
Keeping the Spirit of the Manga
As eyes gave a high approval rating for the latest Live Action adaptation of One Piece, the production team surely is working really hard to make sure that everything were just right. They used the latest technology and their love for the original manga to make this adaptation stand out. Could it pass the hungry critics?
Coming Soon to Netflix
Mark your calendars as the live-action "Yu Yu Hakusho" is hitting Netflix on December 14, 2023! Directed by Sho Tsukikawa and featuring an amazing cast, including Takumi Kitamura, Jun Shison, Kanata Hongo, and Shuhei Uesugi, this is one adaptation you won't want to miss!