The Go, Go, Loser Ranger anime is the newest addition to the superhero anime genre. Officials also shared some of the show's most crucial details, including its premiere date, trailer's central image, cast, and crew. The manga adaptation of the show first debuted in February 2021 and is still being serialized to this day.
In addition, the eleventh volume was issued on September 14, 2023. Fans, especially shounen (young) fans, responded positively to the show because of its compelling plot and interesting take on the superhero genre.
They anticipated the anime version with great interest and high hopes. Let's skip the preamble and dive into this breaking report regarding the impending superhero anime.
Go, Go, Loser Ranger Anime Release Date and 1st Trailer
Release information for the series was officially announced on October 11, 2023, when the first trailer was made available to the public. TBS Animation's YouTube channel posted the trailer, which has been well received by viewers.
The trailer looks exciting, with its cast of masked heroes and monstrous bad guys in power ranger-style outfits. The clip suggests that the Go, Go, Loser Ranger anime will debut in the year 2024. In addition, it will air on 28 different TBS (Tokyo Broadcasting System) channels.
However, the premiere date and available streaming services have not yet been announced.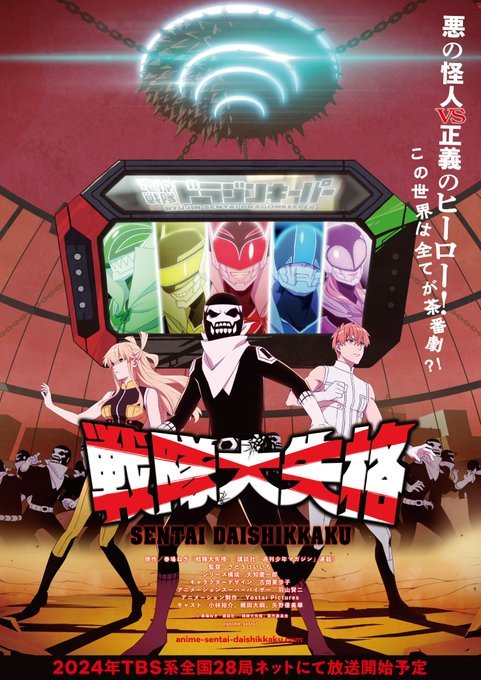 The second major promotional image for the show was revealed alongside the first trailer. Furthermore, the three series leads are shown here with a massive television screen at their backs.
Images of five superheroes in red, blue, yellow, green, and purple outfits populate this massive screen. However, the officials also unveiled key members of the show's cast and crew.
The first three cast members are as follows:
Daishi Kajita will provide his voice to Hibiki Sakurama.
Yusuke Kobayashi will portray Yumeko Suzukiri, while Yumika Yano will provide her voice to the role of Fighter D.
Members of the core team include:
Original creator: Negi Haruba
Character Design: Kahoko Koseki
Director: Keiichi Sato
Series Composition: Keiichiro Ochi
Animation Supervisor: Kenji Hayama
In addition, Yostar Pictures will be responsible for animating the Go, Go, Loser Ranger series. Arknights: Perish in Frost, Blue Archive: The Animation, and Holy Knight Light are the most recent shows from this studio's animation department.
What can we expect to see in the anime adaptation of Go, Go, Loser Ranger?
The monster-like Kaijin of this new superhero anime arrive from nowhere in the form of a mysterious, enormous floating stronghold in the sky. Now, mankind have formed a group named "Ryujin Sentai Dragon Keeper" to protect humanity from these beasts.
In addition, the members of this group, who are known as Jingu, possess supernatural abilities and sophisticated weaponry. The series is currently focused on the epic conflict between Super Heroes Jingu and Kaijin.